Create and manage groups
Create a group for your team or department. Now, instead of inviting members to join a shared folder one at a time, just invite them all at once.
Groups help teams manage access to their shared folders. With groups, you can create lists of people who should have access to many of the same files and folders (like departments, teams, or functions). Any new member you add to a group will automatically be added to all shared folders that the group has been invited to.
Key points:
Groups let you share folders with an entire group, instantly.
You can specify whether a group should have edit access or view-only access.
Groups are great for onboarding new team members. Just add them to the group, and they'll be automatically added to all shared folders for that group.
---
Creating a group
To create a group:
Sign in to your account.
Click Team in the left sidebar.
Click the Groups tab.
In the upper right corner, click the Create group button.
Enter a name for your group. This is the name all team members will see and use to invite the group to new shared folders. Please note that as the owner of this group, you can change the group's name at any time.
Click the Create group button.
Note: If you don't see the Create group button, your team admin may have restricted your team's ability to create groups.
---
Adding members to a group
If you're the owner of a group, you can add or remove members at any time. Keep in mind, only members of your team can be invited to your groups.
A group member will automatically be invited to all shared folders the group has been invited to.
Adding a team member to a group will trigger invites to each individual folder available to that group. Users will need to manually accept these invites before they can access the folders.
Removing a member from a group removes the person from that group's shared folders.
To add a new group member:
Sign in to your work account.
Click on your team name in the lower left hand corner of the screen.
A popover will appear about your members, click it.
Underneath your team name at the top left of the page, click on the tab that says Groups.
In the right hand corner, click Create group.
Once you've created a group, you can add additional team members to it from the Groups tab.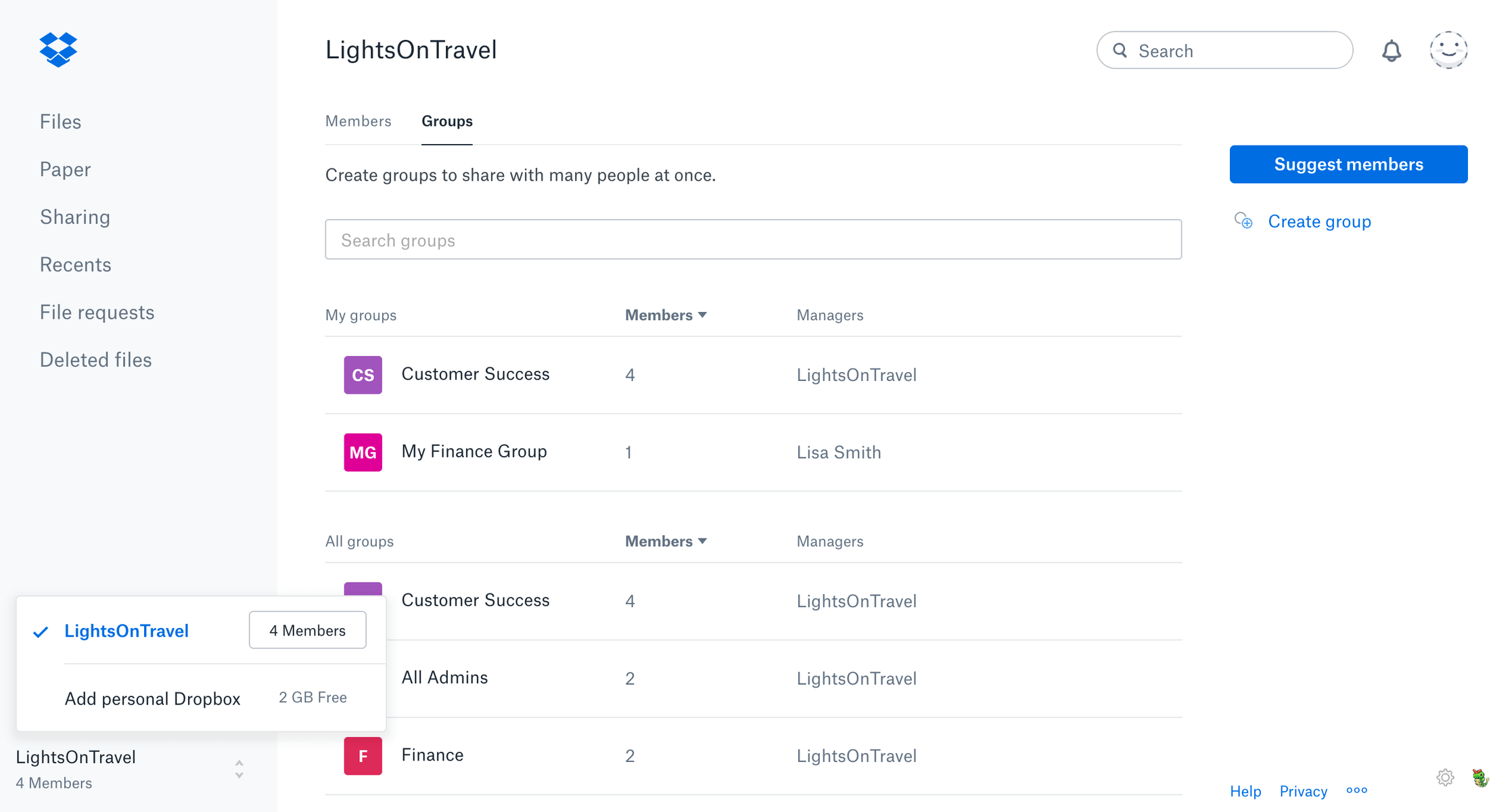 ---
Sharing with a group
You can share a folder with any group, even groups that you aren't a member of.
To share with a group:
In the To field, enter the name of the group you'd like to share with.
Decide if group members can view or edit.
Once you click Share, all members of the group will be invited to the folder.