Set up your folders
Setting up an initial folder structure makes onboarding and file management easy.
Creating structure for your team's work ensures you have access to important shared folders, which may come in handy if you need to restore deleted files or manage access.
---
Sharing folders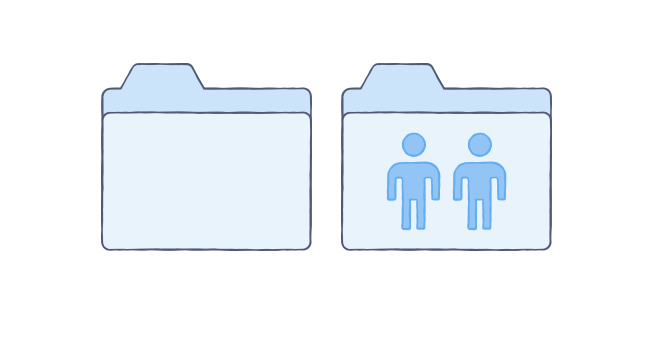 Access to your team's work is determined on a per-folder basis. All folders default to private, and you'll need to invite users to access shared folders. If a folder isn't shared with someone, they won't know it exists.
You can create a shared folder and invite individual team members or entire groups of team members. Once they accept your invitation, any files you add or modify in this folder will automatically sync and update for all other members - and vice versa. For example, you can create an "Accounting" folder, invite the members from your accounting team, and then start adding and changing files. Everyone will always be on the same page.
To create a shared folder:
Sign in to the Dropbox website.
Click the "Share a folder..." icon in the right-hand corner:
Choose to either share an existing folder or create a new one.
Choose the folder you want to share or name the folder you want to create.
Add the groups and/or the email addresses of the users you want to collaborate with in your shared folder, along with a personal message to them if you'd like.
Click Share folder.
---
Team folders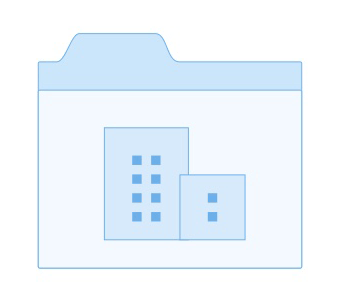 Team folders are special types of shared folders that can be created by an admin. Team folders automatically appear in every team member's Dropbox, making onboarding large groups a snap.
To create a new team folder, just go to the Team folder tab inside the Admin Console.
---
Sharing folders and sub-folders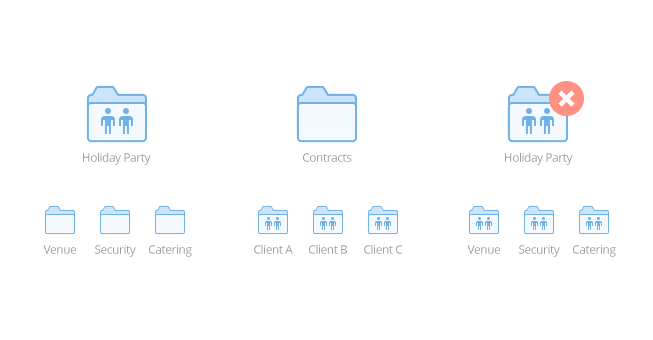 To ensure simple permission settings when sharing, Dropbox doesn't allow you to share a folder that's contained in another shared folder.
You can either share the top folder or its subfolders—but not both. Note that this rule doesn't apply to team folders.
In general, it's easiest to organize files based on who needs access. Here are two folder structures based on common workflows:
---
Organizing by team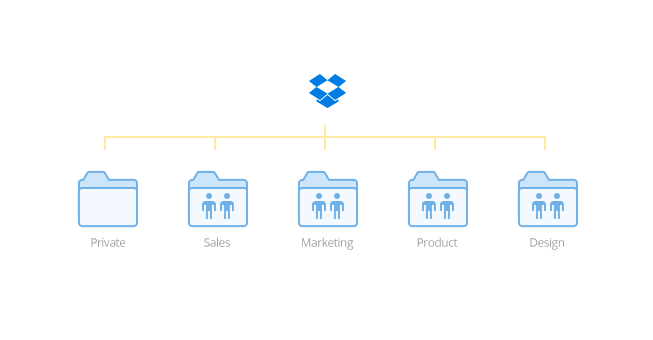 Organize your folders by department, so team members only see the documents related to their work.
---
Organizing by project or client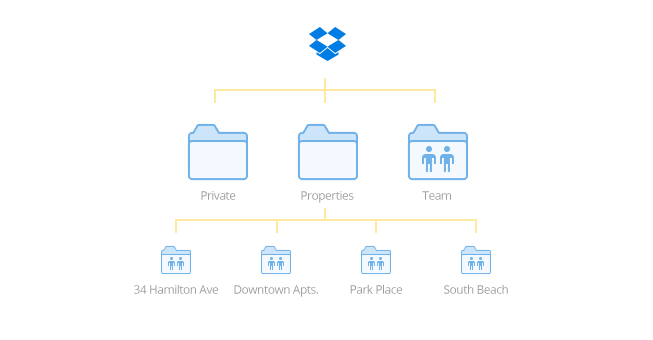 Creating a shared folder for each project or client lets team members coordinate with specific members without worrying about giving the wrong person access.