Save your work in Dropbox
Once you've finished installation, start saving all your important work in your Dropbox folder.
Work out of your Dropbox folder. Anything you save in there will be safe and accessible from any other device with Dropbox installed.
There are two ways to access your Dropbox folder on your computer:
Just like you would access any other file on your computer: via Finder on Mac, or File Explorer on Windows.
Via the Dropbox desktop icon in your computer's system tray or menu bar (lower-right corner on PCs or upper-right corner on Macs).
---
Using the Dropbox folder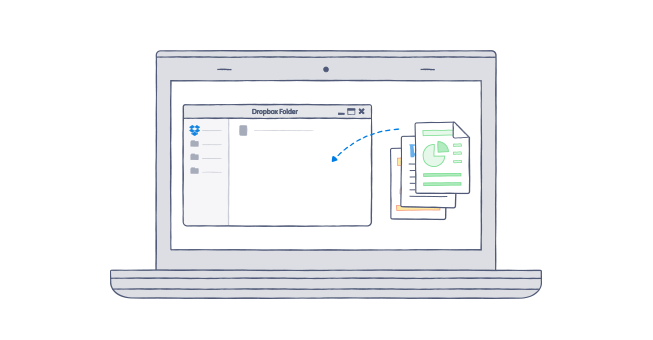 Let's be clear: The Dropbox folder works like any other folder on your computer. To save your work in Dropbox, just drag and drop your files into the Dropbox folder. And remember that everything in the folder will be automatically synced to our website, so it's safe, secure, and accessible across all your other linked devices.
---
Understanding Dropbox syncing icons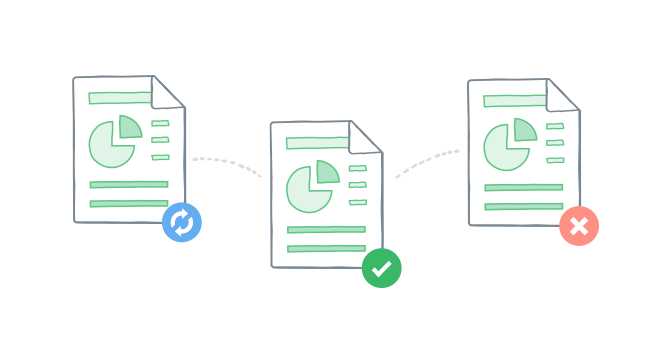 Because we save your files on our website and make them accessible on your other devices, we add status icons to your files and folders so you know the application is working.
Here's what each of these icons means:
Green check: All your files are saved on our website and accessible from any device.
Blue arrows: Your files are in the process of being saved to our website and your other devices. The speed of your Internet connection, the size of the files, and the number of files all affect how long this takes. Please be patient!
Red X: Something isn't working properly and your files are not being synced. Give it some time and check the status later. In most cases, the problem will fix itself, but if it persists, contact your admin.
---
Saving space on your hard drive using Selective Sync
When you start saving files in Dropbox, they'll take up hard drive space just like regular files do. If you're worried about running out of hard drive space, try using our Selective Sync feature.
Selective Sync is how you choose which folders are synced to a computer.
By default, your folders are saved on our website and on your computer. Just like your other folders, this takes up space on your hard drive.
As an alternative, you can decide to have certain folders saved only on our website.
Selective Sync needs to be set up on each computer individually. This way, you can choose which files are accessible on each.
We recommend using Selective Sync for files and folders you don't access very often.
Important: If you delete files from your Dropbox folder instead of using Selective Sync to free up space, they'll be deleted from your other linked devices. They'll also be deleted from the devices of anyone you've shared the files with. Be careful!
To set up Selective Sync on your device:
Click on the Dropbox icon in your system tray or menu bar.
Click on the gear icon and then select Preferences.
Go to the Account tab and pick which account (personal or work) you'd like to set up.
Find the "Selective Sync" section and click Change Settings.... You'll see a list of all the folders in your Dropbox. By default, they will all have a checkmark next to their names, indicating they're saved on both your computer and on our website.
Deselect the checkmark next to the folder's name if you want to remove it from your hard drive.
When you click Update, the files will automatically be removed from your computer, but will still be available on our website.
---
Uploading files on the Dropbox website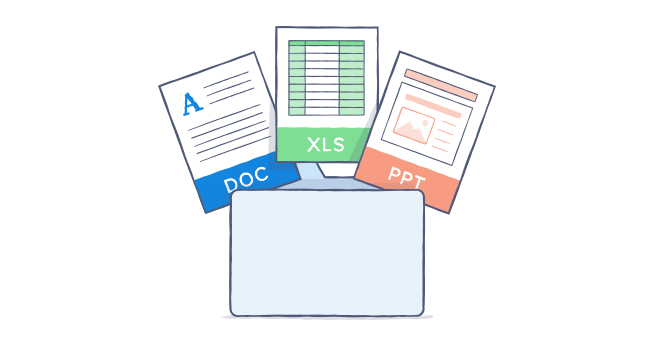 If you don't have the desktop application installed, or just want to upload a few files, you can always use our website.
Since the website uploader has a limit of 10 GB per file, and can only upload selections of files, we recommend using the Dropbox desktop application for entire folders and large files.
To upload files on the website:
Sign in to the Dropbox website.
Click the Upload button at the top of the window.
A window will appear. Click the Choose File button and then select the file on your computer that you'd like to add to your Dropbox.
Choose as many files as you like, and then click the Start Upload button.
Your files will start uploading, and you'll see a progress indicator. Once it's done, your files will be in your Dropbox!