Dropbox June 2022 Product Updates

Top-requested security features added to Standard and Advanced plans
Now, you have new tools to protect your work, your team, and your clients from digital security threats:
Standard:
Advanced:
Extended version history—Easily undo accidental edits and deletions. Now you can restore and recover team files for up to 1 year
Always-on security monitoring—Get alerted to suspicious behavior immediately. And recover stolen or compromised content without paying a ransom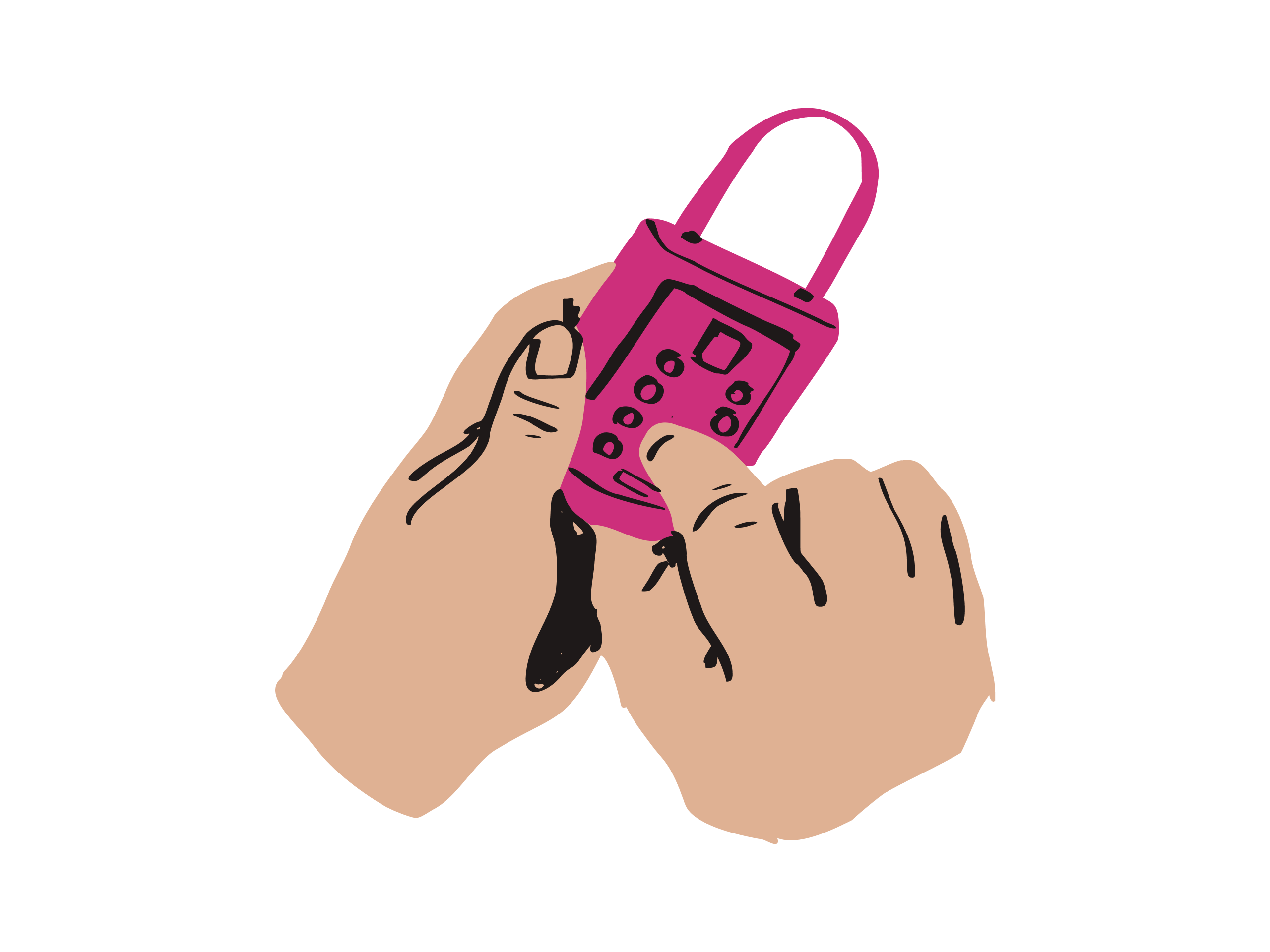 Email to Dropbox now available globally
With Email to Dropbox, you can now save email attachments, like images and PDFs, right into your Dropbox account. Email to Dropbox lets you:
Reduce the steps

needed to save important attachments in Dropbox by simply forwarding an email

Keep confidential files safe

by having trusted clients and partners send sensitive documents directly to Dropbox

Find your content faster

by centralizing your email attachments alongside the rest of your content within Dropbox
Email to Dropbox is available on all individual plans and now Dropbox Standard, Advanced, and Enterprise plans. Admins must enable it for end users in the admin console. To set up Email to Dropbox, visit our app center.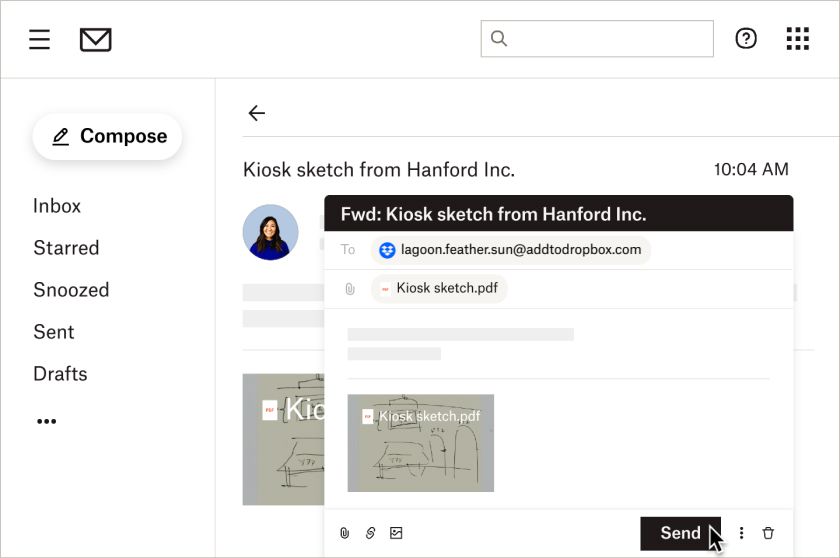 New search improvements help you stay organized and find content fast
Improvements to our search experience were designed to help you find your content faster—especially if you can't remember the filename.
The new search interface includes recommendations that highlight:
Recent searches and files
Main collaborators
Tags created by you and your team
You can also filter by date modified alongside folder, file type, people, and image properties to find what you need. Visit Dropbox to try it out.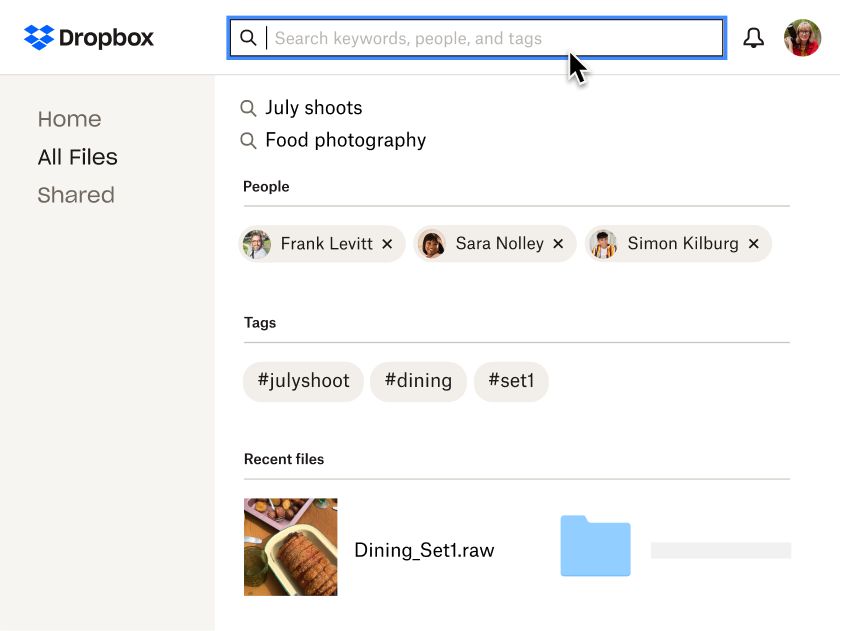 Sharing improvements streamline collaboration, give users more control
We recently made enhancements to our sharing capabilities that give individuals more control over their content—you can now grant edit permissions to people you share folders with using shared links—making it even easier to collaborate in Dropbox. You can also create, manage, and share sub-folders within shared folders. Sharing improvements are available on the Web only on all individual plans. Visit our webpage to learn more about sharing enhancements.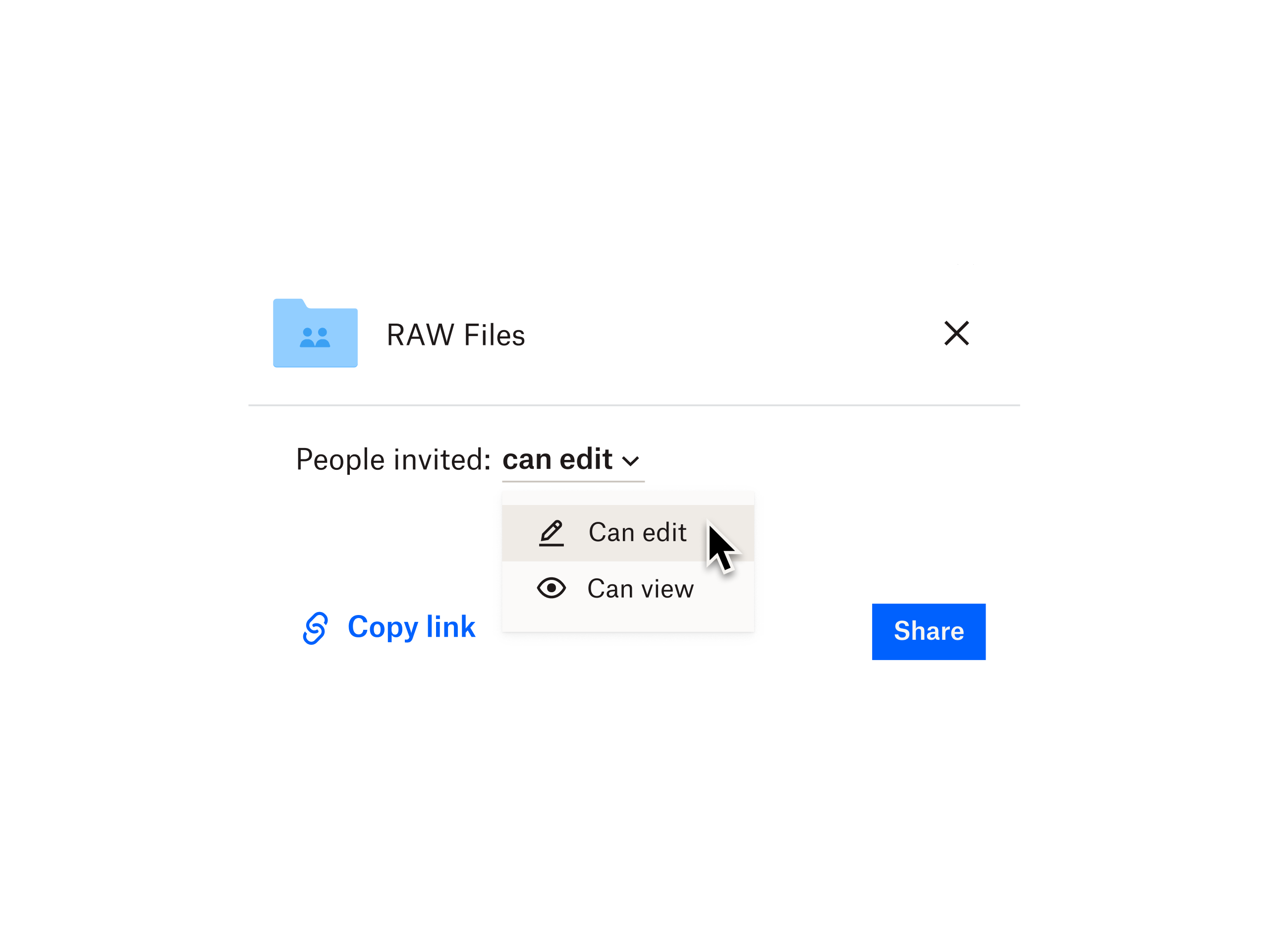 Get unlimited storage space with the Dropbox Backup plan
The Dropbox Backup plan now includes unlimited storage space to back up one external drive—in addition to one computer—for just $5.99/month.
Just plug in your external drive to back it up. Videos, photos, and personal documents that are stored on your external drive will get backed up to Dropbox Backup where you can access them from any device. Visit our webpage to get the Dropbox Backup plan.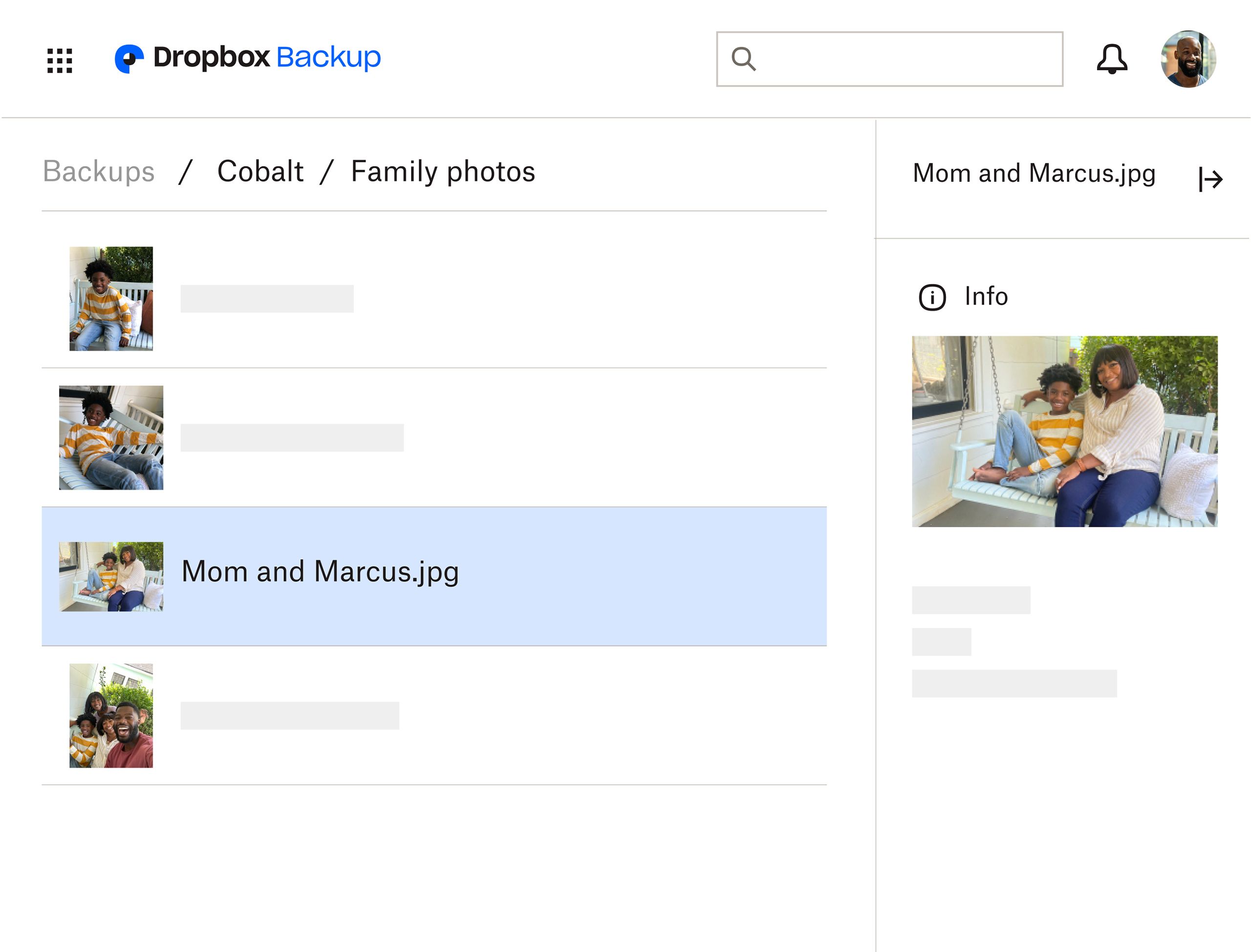 'Smart' enhancements to multi-file organize now available
A series of feature enhancements to multi-file organize include quick and easy organization with little upfront work and decision-making. Enhancements include intelligent recommendations on how a user should organize their files. A user will be given the recommendation and then they can confirm the move. To learn more about multi-file organize, visit the help center.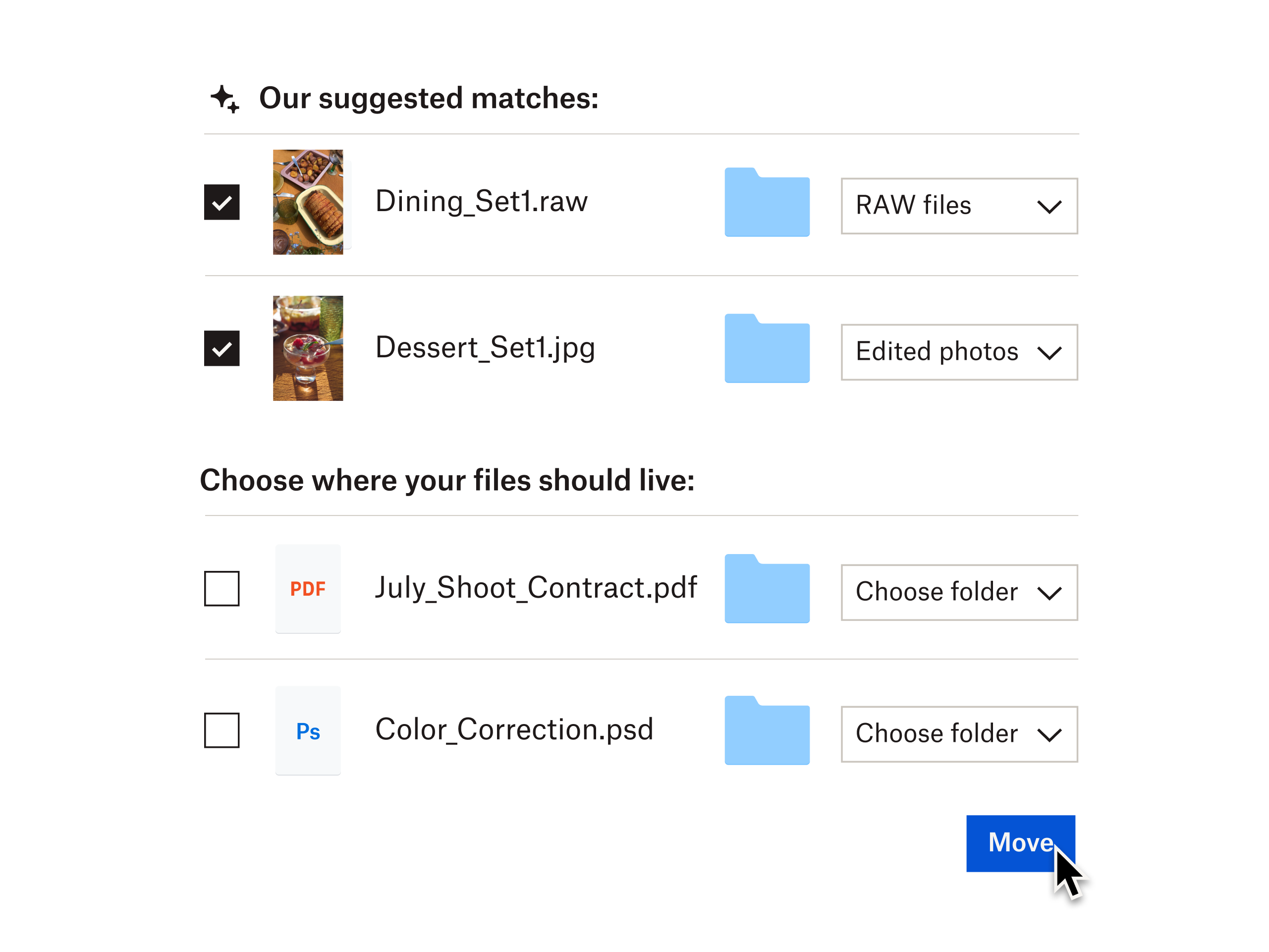 Updates to file requests naming conventions now available
Based on customer feedback, we've updated the naming conventions for file requests. Previously, the requester's name was automatically added to the beginning of the filename. Now, users will be able to apply a customized naming convention representative of standards that they typically use. This will result in all files having a standard naming convention when they are added by multiple people.
Save even more time with updated naming conventions
Naming conventions help users quickly rename files and organize folders in Dropbox for consistency, easier sorting, and smoother navigation. Filename and formatting conventions can occur in folders at the same time. Updates include the ability to:
Add a keyword to filename rule
Add new media metadata (like camera model) to a naming convention
Customize the order in which keywords, metadata, dates, and folder names appear
The naming conventions feature is available on all Dropbox plans. Learn more about naming conventions in our help center.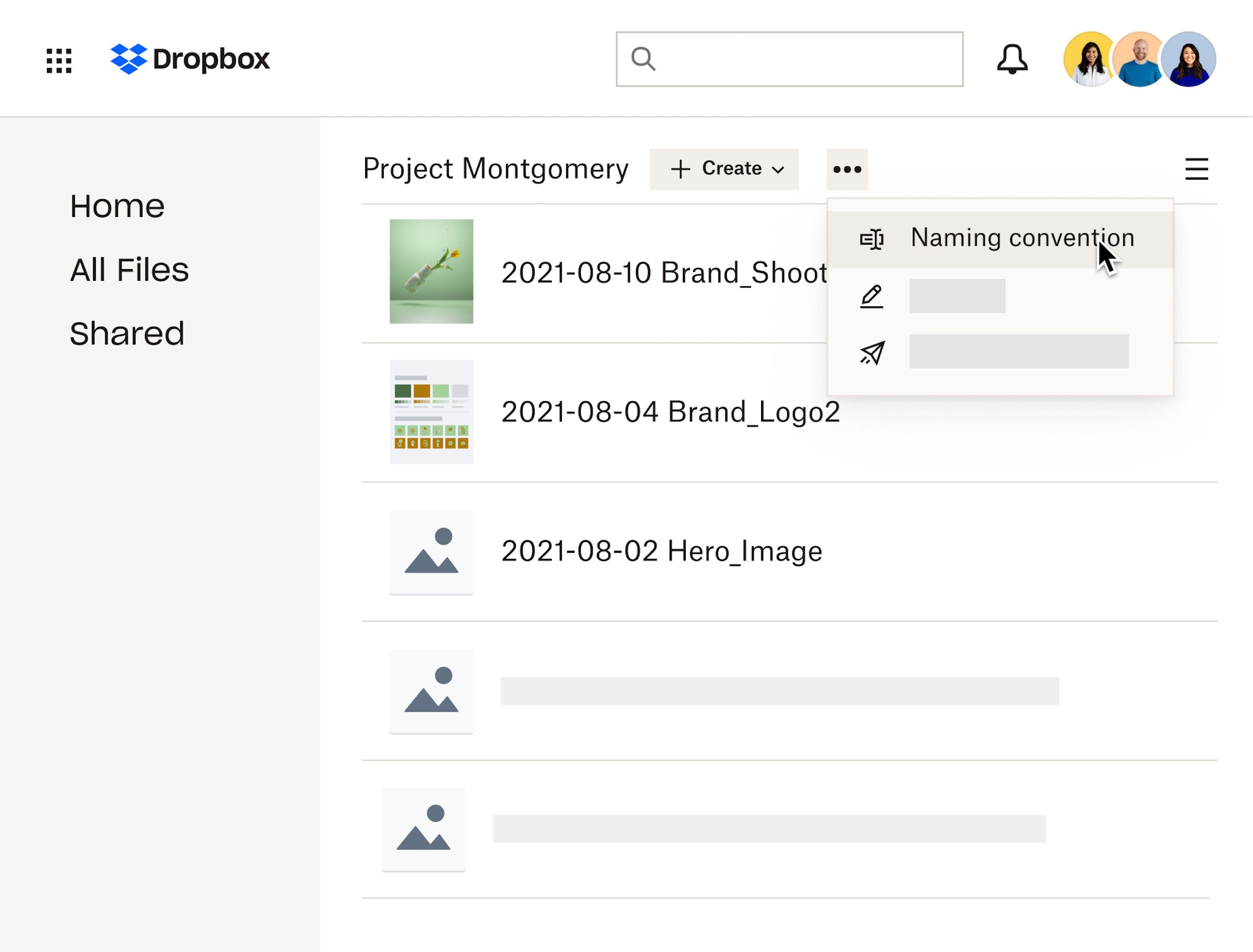 New features added to Dropbox Capture beta
We added three new features to Dropbox Capture, our visual communication tool that lets you get your message across with simple screen captures and video recordings. The new features, designed to help users create presentation-ready content faster, include:
Improved markup tools

help users clearly annotate screen capture images, crop images, and blur portions of an image to remove any personal information

Video trimming

lets users remove unwanted portions of their recordings with only a few clicks

Closed captions

can now be turned on by screen recording recipients
Capture is currently in beta and is available in English only. To learn more about Dropbox Capture, visit our webpage.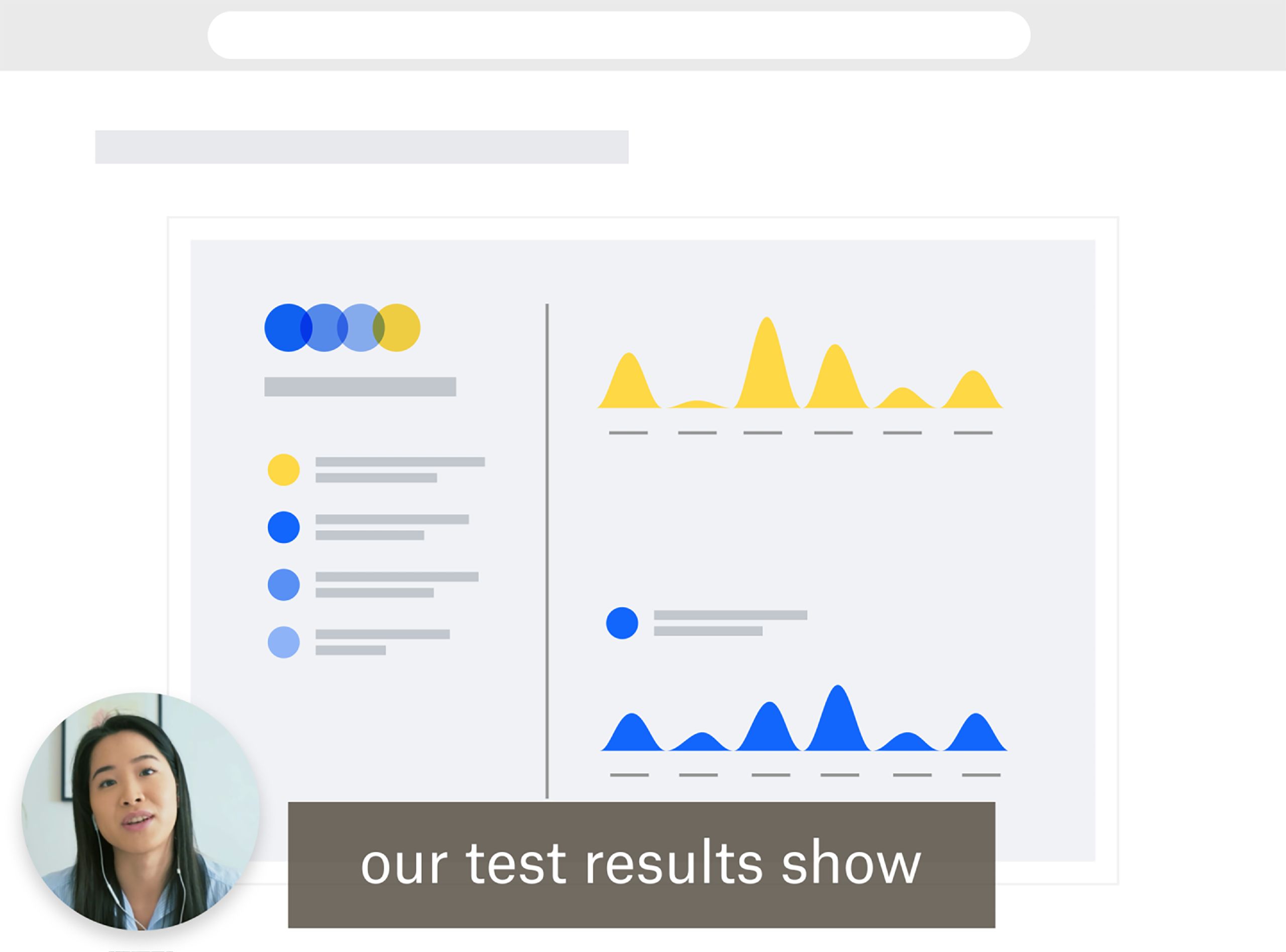 New security features added to Dropbox Replay beta
Our audio and video collaboration tool, Dropbox Replay, includes new features to help teams stay organized and secure their videos. With Dropbox Replay, you can now:
Secure your work with password-protected shared links
Control who downloads your work with download permissions
Create a team Project and set up user permissions to simplify workflows
Replay is currently in beta and is available in English only. To learn more about Dropbox Replay, visit our webpage.